Do My Gemstones or Jewelry Items Ever Leave My Sight?
Rarely ever will you need to leave the item. The whole process is done right in front of you. Whether you want to just relax and read a magazine, or immerse yourself in the process by asking as many questions as you want answered about the piece itself or the jewelry industry in general, this should be a pleasant, care free, and most of all, informative experience.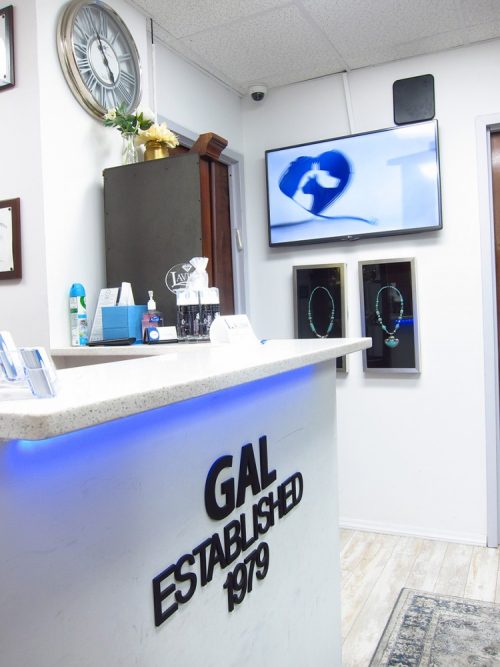 How Much Does It Cost?
Generally speaking, we've learned that compared to most of the other competitors around, we tend to be the most competitively priced, so we always encourage you to get a couple quotes from other companies as well; However, due to the massive range and variety of jewelry, not to mention the quantity that each individual brings in (the more items you bring in at once, the better the overall rate,) it's impossible to follow a cookie-cutter price list, so in most cases, a customized quote is provided prior to the service. It ultimately ends up being cheaper for our guests this way, since we're basing the fee off of parameters set forth by your needs and items to be evaluated/tested.
So, How Do I Find Out The Cost Of The Service?
There are two ways to do this: You may simply just set an appointment, tell us how many items you need assessed, and then the gemologist you will be seeing will give you the estimate before initiating the service. Or, simply e-mail us at info@gemlab.com with a brief description and/or picture of the item(s) you wish to have looked at, and the purpose of your visit (insurance, re-sell, verification, estate settlement…etc.) and we'll provide a custom quote for you.
How Long Does The Appraisal Take?
Generally the appraisal process will only take 20-30 minutes per item when you bring the item in. Of course this depends on the complexity of the piece and level of difficulty in the identification of some gemstones, but for the most part, an appraisal can be finished within the time you have for your lunch break. If you are submitting your piece from somewhere other than the Tri-State area, allow 5-7 business days before it will be completed. A more specific time frame will be discussed prior to submission.
What Do I Receive by Getting an Appraisal From GAL?
Aside from the peace of mind and more knowledge of your items than before you came in, you will receive a full, comprehensive evaluation, which includes a detailed description of the item(s), in-depth measurements, color and clarity quality, a high resolution image, and of course the value. You will also benefit from ongoing support from GAL. Whether you need an update of your existing appraisal by GAL, or if you have any questions regarding any of your jewelry or gemstone needs, we encourage you to reach out to your Gemologist anytime.
Do I need my appraisal updated?
Yes, the value of diamonds, gemstones, and precious metals are constantly changing, and reflecting the true value of the item is very important. If it is insured for too little, you are left with more out of pocket expenses. It is also in your best interest if you are getting ready to sell the item to have an updated value in order to communicate current market assessment. If the value hasn't been updated in some time, how will you know you are getting the most money for it?
Why can't I just have the jewelry store I bought it from provide me with an appraisal?
Simply put: Jewelers are not appraisers. Appraisals from the place you bought the piece from are almost always unavoidably biased. The information might not exactly depict the qualities and details of the piece. Even when the appraisal information happens to be accurate, the value is usually highly inflated under parameters that are not conducive to a proper insurance replacement value, which will cause you to have higher monthly premiums when you go to insure the item.
Are we recognized by insurance companies?
Yes, we are recognized and widely referred to by some of the country's top agencies, such as: State Farm, Allstate, Geico, Jewelers Mutual and many more. If you're completely unsure of who to go with, we've had plenty of experience working with many of them, and we'd be happy to share out experience with them, and based on your needs for insurance, our recommendations.